Please use it for sightseeing in Ogasawara Island. As the number of units is limited, make a reservation as soon as possible.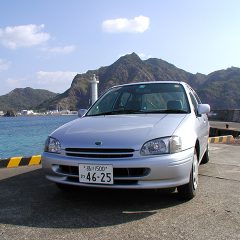 Call today!!
Even during non-peak seasons, activity reservations tend to be full early.
Please make an early plan / reservation.
Accommodation availability
For reservations and inquiries, please contact each guided tour trader directly.
※Please contact each trader directly for time and details.
※Prices may change during peak seasons.
About cancellation
Please confirm about cancellations when making a reservation.
Please read the "Cancellation Rules for Tours(Guide)" of Ogasawara Village Tourism Association.
Rent a car
※Since prices may vary, please be sure to check with each company before applying.
Shop name
TEL
Car model / Price
Car model / Price
Car model / Price
Car model / Price
エブリィ(定員4名)
5時間まで:5,100円
10時間まで:6,300円
24時間まで:7,300円
以後1日ごと:5,800円
1時間超過ごと:1,100円
入港日~出港日まで(75時間):22,200円
ヴィッツ(定員5名)
5時間まで:5,600円
10時間まで:7,000円
24時間まで:8,400円
以後1日ごと:6,400円
1時間超過ごと:1,300円
入港日~出港日まで(75時間):25,100円
バン(定員5名)
5時間まで:6,600円
10時間まで:8,500円
24時間まで:10,700円
以後1日ごと:8,000円
1時間超過ごと:1,600円
入港日~出港日まで(75時間):31,500円
ハイエース(定員9名)
5時間まで:9,200円
10時間まで:12,100円
24時間まで:15,400円
以後1日ごと:11,200円
1時間超過ごと:2,100円
入港日~出港日まで(75時間):44,100円
タイプA
軽自動車
5時間迄 5,500円
10時間迄 6,500円
24時間迄 7,500円
  以後1日/6,000円
1時間超過/1,200円
タイプB
ミニバン
5時間迄 7,500円
10時間迄 10,000円
24時間迄 11,000円
以後 1日/9,500円
1時間超過/1,800円
タイプC
ワンボックス
5時間迄 9,500円
10時間迄 12,500円
24時間迄 16,000円
 以後1日/12,000円
1時間超過/2,500円
ミニキャブバン
(定員4名)
6時間まで:5,000円
10時間まで:6,000円
24時間まで:7,000円
以後1日につき:5,500円
延長1時間につき:1,000円
オッティ
6時間まで:5,000円
10時間まで:6,000円
24時間まで:7,000円
以後1日につき:5,500円
延長1時間につき:1,000円
ミニカ
6時間まで:5,000円
10時間まで:6,000円
24時間まで:7,000円
以後1日につき:5,500円
延長1時間につき:1,000円