If you want to enjoy the Ogasawara Sea freely, charter a boat. Cruising the open sea with your friends.

Dolphin watching, fishing, snorkeling and gathering shellfish can be enjoyed greedyly. You can enjoy the rough scenery of the rocks of the island and the sunset over the horizon until you reach your heart with a charter boat.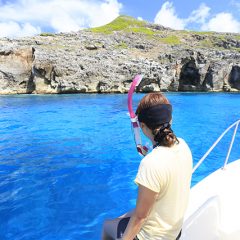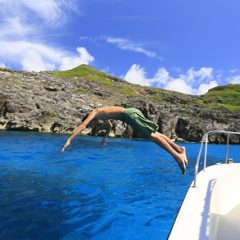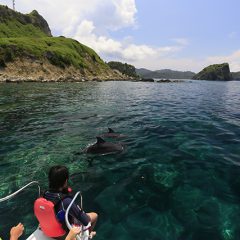 Call today!!
Even during non-peak seasons, activity reservations tend to be full early.
Please make an early plan / reservation.
Accommodation availability
For reservations and inquiries, please contact each guided tour trader directly.
※Please contact each trader directly for time and details.
※Prices may change during peak seasons.
About cancellation
Please confirm about cancellations when making a reservation.
Please read the "Cancellation Rules for Tours(Guide)" of Ogasawara Village Tourism Association.
Charter boat
※Since prices may vary, please be sure to check with each company before applying.
Shop name
TEL
1day fee
Half-day fee
Capacity
1day fee :
120,000円~
(開催時期応相談)
Half-day fee :
80,000円~
(開催時期応相談)
1day fee :
ビートマスターIII:162,000円~
シーラ:64,800円~
1day fee :
Turtlon:100,000円
KaiMalie:60,000円
Half-day fee :
Turtlon:60,000円
KaiMalie:35,000円
1day fee :
5名まで:58,000円 
(1名追加毎に6,800円)
Half-day fee :
5名まで1日:65,000円
(1名追加ごとに¥7,000)
5名まで半日:42,000円
(1名追加ごとに¥5,500)
1day fee :
応相談(目的・用途により割引有)
Half-day fee :
応相談(目的・用途により割引有)
1day fee :
226,800円
※母島・外洋・ケータは燃料代別途加算